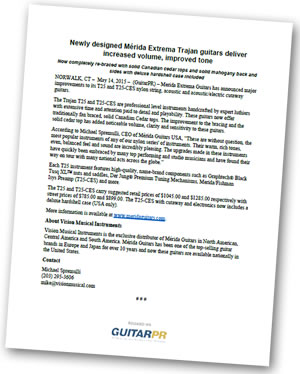 Let's presume that as a business owner/operator, organization director or other professional, you want to attract attention for the purpose of achieving specific objectives — more sales, more members, more gigs or just more of something. Press releases still serve an important role in that quest… although their usage has changed over the years.
Our modern-day approach to "press relief" is producing press releases that factor in both media and relevant markets. We're also doing this for specific markets (see our newest market at GuitarPR.com)
We craft releases to accomplish three things:
Get the attention of editors, reporters, bloggers… or potential customers
Convey the message
Compel the predetermined call to action
Anybody with a little knowledge of the process can write a press release. But to accomplish the three goals above, you need something much more. And that's where we come in. We provide a creative, intuitive, experienced and talented resource for developing, writing and producing your press releases.
We're not the Cheapest
A Web search will deliver thousands of resources for press release writing with prices literally all over the map. You are on this page for a reason, most likely from a referral or a direct outreach from us. You want this done right, with someone you are comfortable with who knows what they're doing. There's value in that.
We offer three standard levels of press release creation shown below. If you are clear about your needs, just select one of these to initiate the process and we'll get going. It's that simple.
Level 1 Release: $129
This level is for those who already have release materials that need to be properly reworked (for any reason).
Level 2 Release: $195
This level is for those who need a release created from scratch. With input and source materials from you, we craft your story into a deployable press release ready for distribution.
Level 3 Release: $295
This level is for those who not only need a release created from scratch, but with assessment, consultation and followup support as well. If additional work is needed beyond the scope of the release, there may be additional fees required. But there are never any surprises.
Order Press Releases
Use the form below to order and pay for your press release services. We'll contact you and start the ball rolling. If you have questions, please contact us.
We look forward to working with you (if you so choose). If you have questions, or feel you need a more customized or broader approach, please contact us.